VAMP 57 Relays Schneider Make, رله ومپ 57 اشنایدر الکتریک
VAMP Relays 50 Series Schneider Electric, رله ومپ سری 50 اشنایدر الکتریک
VAMP Relays 200 series Schneider Electric, رله ومپ سری 200 اشنایدر الکتریک
VAMP Relays 300 Series Schneider Electric, رله ومپ سری 300 اشنایدر الکتریک
Sepam Relays 40 Series Schneider Electric رله سیپم سری 40 اشنایدر الکتریک
SEPAM Relays 60 Series Schneider Electric رله سیپم سری 60اشنایدر الکتریک
SEPAM Relays 80 Series Schneider Electric رله سیپم سری 80اشنایدر الکتریک
---
VAMP 57 Relays Schneider Make رله ومپ 57 اشنایدر الکتریک
قیمت تقریبی رله چهار میلیون و دویست هزار تومان
 مشاهده کاتالوگ   رله ومپ 57 اشنایدر الکتریک در گوگل درایو
دانلود کاتالوگ رله ومپ 57 اشنایدر الکتریک از پیکوفایل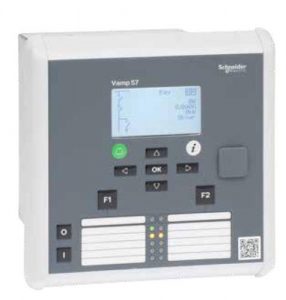 Vamp series are smart Feeder and Motor protection relays. Vamp is an expert in communication with fast experience in interfacing different system integrators SCADA, RTUs, PLCs and gateways using large numbers of supported protocols. The VAMP 57 offers a complete set of measurement functions to replace the conventional metering functions of switchgears and controlgear installations. The measurement functions cover phase, line and residual current imbalance, system frequency and harmonics from phase currents. Conditional monitoring continuously monitors trip circuit breaker wear and current transformer.
---
VAMP Relays 50 Series Schneider Electric  رله ومپ سری 50 اشنایدر الکتریک
مشاهده کاتالوگ  رله ومپ سری 50 اشنایدر الکتریک   در گوگل درایو
دانلود کاتالوگ رله ومپ سری 50 اشنایدر الکتریک از پیکو فایل
VAMP 50 series offers a comprehensive selection of modular protection relays for overcurrent, earth fault, voltage, frequency and line differential protection. Models available: VAMP50, VAMP52, VAMP55, VAMP59. Schneider Electric???s VAMP 50 series product range is highly flexible and meets the protection and control needs of a number of power systems, from simple overcurrent, to busbar voltage or line differential applications. Featuring native IEC 61850 and VAMP???s unique arc flash protection, the VAMP 50 series is designed around proven technology concepts and developed in close cooperation with customers, making it both reliable and modern. VAMP 50 series also introduces a complete set of measurement functions including line and residual currents, current imbalance, system frequency and harmonics, replacing conventional metering functions in switchgear and controlgear installations. User-friendliness is a designed-in feature of VAMP products and the VAMP 50 series is no exception with a large LCD display, programmable function keys and easy-to-use VAMPSET software.
---
VAMP Relays 200 series Schneider Electric رله ومپ سری 200 اشنایدر الکتریک
VAMP 200 series offers a comprehensive family of protection and control devices with complex measurement functions for the management of feeders, motors and capacitor banks. Models available: VAMP210, VAMP230, VAMP255, VAMP257, VAMP259, VAMP265, VAMP265M
---
VAMP Relays 300 Series Schneider Electric رله ومپ سری 300 اشنایدر الکتریک
قیمت تقریبی سه میلیون تومان
دانلود کاتالوگ  رله ومپ سری 321 اشنایدر الکتریک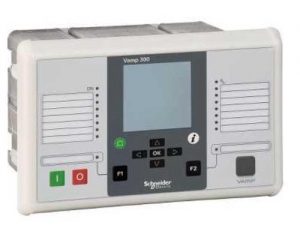 VAMP 300 series offers a comprehensive family of protection and control devices with complex measurement functions for the management of feeders and motors. Models available: VAMP300F, VAMP300M, VAMP300G, VAMP300T
---
Sepam Relays 40 Series Schneider Electric رله سیپم سری 40 اشنایدر الکتریک
دانلود کاتالوگ  رله سیپم سری 20و 40و 80 اشنایدر الکتریک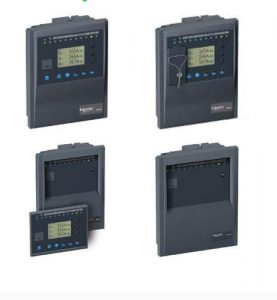 Sepam series 40 offers 13 types of digital current or voltage protection for demanding distribution systems, each one dedicated to a single application. Models available: Sepam S40, S41, S42, S50, S51, S52, S53, S54, T40, T42, T50, T52, M41, G40 Sepam series 40 includes 13 types of Sepam. One type of Sepam is dedicated to one application. Characteristics: 3 types of User-Machine Interface 4 current inputs 3 voltage inputs 10 logic inputs 8 8 relay outputs logic equation editor 1 Modbus communication port 16 temperature sensor inputs
---
SEPAM Relays 80 Series Schneider Electric رله سیپم سری 80 اشنایدر الکتریک
قیمت تقریبی ده میلیون و پانصد هزار تومان
جهت مشاهده کاتالوگ رله سیپم سری 80 اشنایدر الکتریک روی تصویر زیر کلیک نمایید
Sepam series 80 offers 16 types of digital current or voltage protection for any distribution system, each one dedicated to a single application. Models available: Sepam S80, S81, S82, S84, T81, T82, T87, M81, M87, M88, G82, G87, G88, B80, B83, C86 Sepam series 80 includes 16 types of Sepam. One type of Sepam is dedicated to one application. Characteristics: 3 types of UMI 12 analogue input: – 8 current inputs and 4 voltage inputs – 4 current inputs and 8 voltage inputs 42 logic inputs 23 relay outputs 2 Modbus communication ports 16 temperature sensor inputs removable memory cartridge with parameters and settings for quick commissioning after replacement Logipam programming software (optional), to programme specific functions
---
SEPAM Relays 10 Series Schneider Electric
Overcurrent and earth fault relay for basic protection of feeders and distribution transformers The Sepam series 10 range includes 3 models: series 10 N provides protection against earth fault. series 10 B provides protection against overloads, phase-to-phase faults and earth fault. series 10 A performs the same functions as the Sepam series 10 B, with digital inputs and additional relay outputs, one communication port and additional protection and monitoring functions Sepam series 10 replaces RH110, VIP 50 and Sepam 100RT due to end of commercialisation (November 2009 ) Applications Protection of secondary power distribution networks (MV/MV, MV/LV substations) Protection of buildings with MV power supply (office buildings, shopping centres, industry, warehouses)
---
SEPAM Relays 60 Series Schneider electric رله سیپم سری 60 اشنایدر الکتریک
مشاهده و دانلود کاتالوگ  رله سیپم سری 60 اشنایدر الکتریک  
Digital Protection Relays for Distribution Systems The Sepam series 60 includes 8 types of Sepam. One type of Sepam is dedicated to one application. Characteristics: 3 types of User-Machine Interface 4 current inputs 3 voltage inputs 28 binary inputs 16 binary outputs logic equation editor IEC 61850 w/ GOOSE 1 Modbus communication port 16 RTD inputs removable memory cartridge with parameters and settings for quick commissioning Applications S60, S62 : substation incomers and feeders protection M61 : motor protection T60, T62 : transformer protection G60, G62 : generator protection C60 : capacitor protection
---